Breaking Down All of the Chatter About Prince William and Prince Harry's Feud
The week started with one of the first outward signs that Prince Harry and Prince William were truly splitting up as it were. Less than a month after the palace shared that Queen Elizabeth II "has agreed to the creation of a new household," for Harry and his bride, Meghan Markle, it became Instagram official, the launch of @sussexroyal signifying an official breakup with the @kensingtonroyal account the pair once shared with William and wife Kate Middleton.
Now the separation has become physical. Following months of lead up and a flurry of renovations, Harry and Meghan have finally made the big move into Frogmore Cottage, their new Windsor Castle digs mere weeks before they're due to welcome their first child together.
The news has been accompanied by those close to the newlyweds waxing on about how great the move to the country will be, with one family friend telling People, the two felt "claustrophobic" at their two-bedroom Kensington Palace digs. Another noted how "healthy" a change of address will be for the soon-to-be family of three. "I presume it must be nice to get out and away," explained the pal. "Without neighbors who are all either family or staff [at Kensington Palace], they will now have their own thing."
Granted their own thing will take place just 25 miles down the road from William and Kate's 20-room Kensington Palace pad, a mere hop, skip and a jump for two princes with literally everything at their disposal.And seeing the two brothers getting on at the world premiere of Netflix's Our Planet seriesThursday went a long way toward challenging the whole siblings at war narrative as have interviews from royal insiders pointing out that the splitting of their shared royal household is entirely and utterly normal. After all, no one has ever made a big thing about the fact that Prince Charles, heir apparent to Britain's throne since his birth, doesn't share an office with hissiblings Princess Anne, Prince Andrew and Prince Edward.

"Harry has decided that he wants to set up his own office, which is fair enough. While he was single, he was living in his comfort zone with his brother and his sister-in-law," the Queen's former press spokesman Dickie Arbiter 

told Us Weekly

. "But now he's married, he's creating his own comfort zone, with his wife, and it just makes sense. You can't have a small staff running the offices of two people. Harry is now moving on and setting up his own office. Nothing unusual in that."
Still, now that it's happening, it does have that distinct end of an era feeling to it. And all the chatter about the brothers having a bit of a squabble as of late does seem legitimate.Certainly the two got their digs in while growing up in the public eye.

When they found themselves living together in 2009 as they each studied to become helicopter pilots with the Royal Air Force, Harry bragged about how he was "better than William" at flying, while the future king, 36, joked about how he was helping his younger brother, 34, study for exams "an awful lot. He needs a lot of help."

As for what it was like living together again nearly a decade after they both attended Eton College, "It's been a fairly emotional experience," cracked William. "I cook for him and feed him basically every day." Asked if Harry handled clean up duty, he replied, "He does do a bit of washing up, but then he leaves most of it in the sink, and then he comes back in the morning and I have to wash it out."

"Oh, the lies," shot back Harry.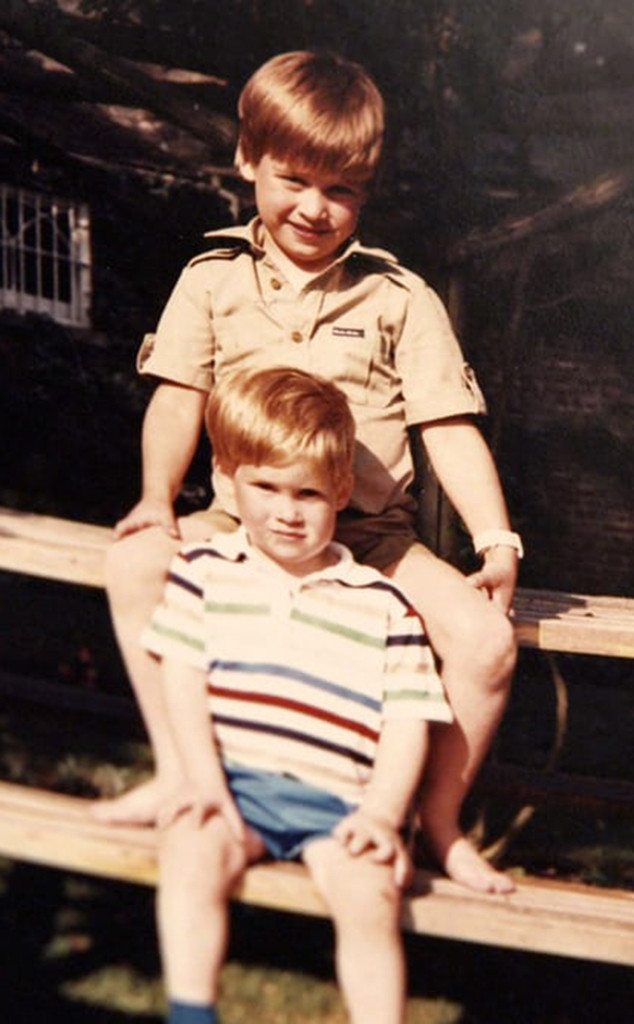 Kensington Palace/Twitter
With such lighthearted back-and-forth it was easy to subscribe to the narrative about two close-in-age brothers—Charles and Princess Diana welcoming Harry just 27 months after their first son was born in 1982—being brought even closer by extraordinarily tragic circumstances.And, as they each have said, they do share a unique bond, being the only ones that can truly understand both what its like to grow up with the eyes of the world trained upon them and to suffer the toughest of public heartbreaks.

"My brother and I's relationship is closer than it's been because of the situations we've been through," William noted during a 2018 appearance at an event for the Campaign Against Living Miserably charity. "Losing our mother at a young age has helped us to travel through that difficult patch together. You're like-minded. You go through similar things, it's a bond and it's something you know you've tackled together and come out better for it."

So the idea that the two are just like any other siblings who sometimes bicker and have arguments that aren't wrapped up in a few days, that perhaps lead to the weeks- or months-long freeze out, well, it's a bit tough to take.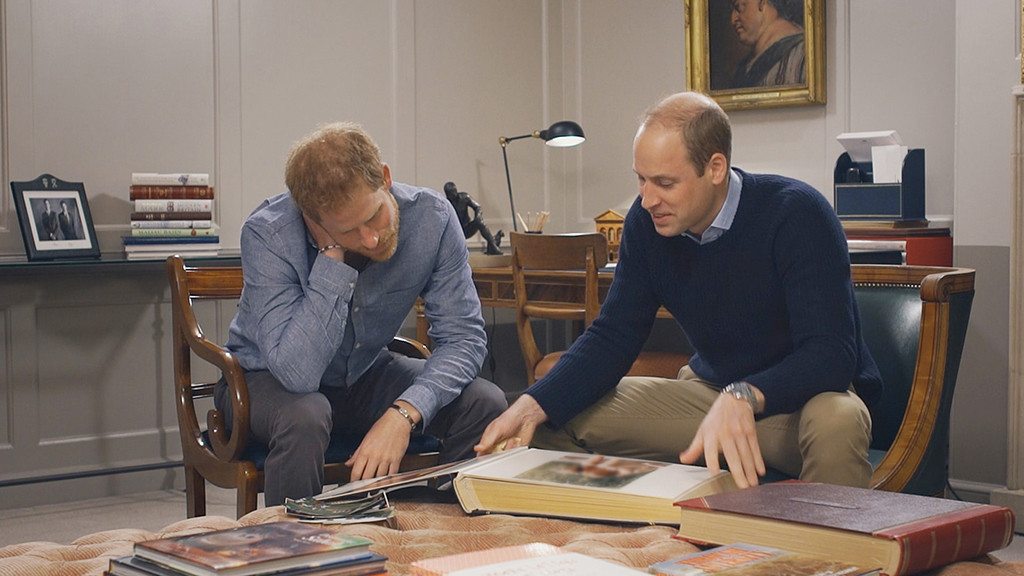 Courtesy of HBO
Though, of course, they have fought.On his TrueRoyalty.tv chat show, The Royal View, filmmaker Nick Bullen hosts royal biographers, friends and other insiders who all have "firsthand knowledge of life inside the palace," he shared with E! News. "One of the examples is a chap called Ken Wharf, who was Diana's bodyguard and William and Harry's bodyguard for a long time."

Riffing on the boys' earliest days, said Bullen, Wharf spoke about how "they were like normal brothers who bicker and fall out and have sibling rivalries. We've told the story that these boys are closer than ever as brothers and they've got each other's back and I'm sure that's all true, but the reality is that they're also brothers. Brothers fall out and everyone has falling outs with their families."

Royal biographer Katie Nicholl reported to Vanity Fair that one of the more epic battles came during Harry's teenage years, a time he has admitted involved a lot of acting out on his part as he dealt with tackling life without his mother.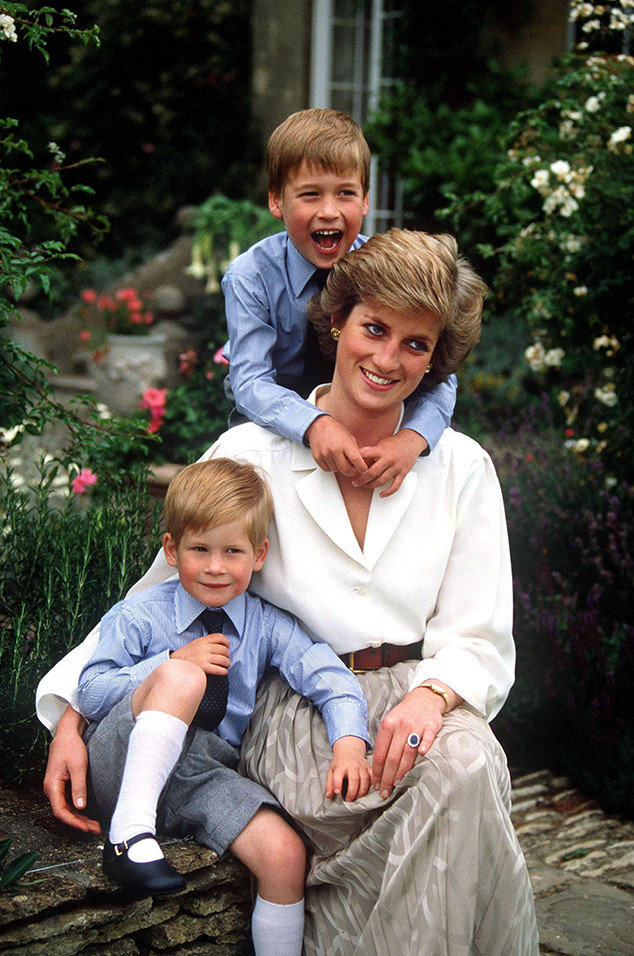 Jayne Fincher/courtesy of HBO
"I can safely say that losing my mum at the age of 12, and therefore shutting down all of my emotions for the last 20 years, has had a quite serious effect on not only my personal life but my work as well," he told the Telegraph's Bryony Gordon for her Mad World podcast in April 2017. "I have probably been very close to a complete breakdown on numerous occasions when all sorts of grief and sort of lies and misconceptions and everything are coming to you from every angle."It was during this period that the press caught a teenage Harry drinking and smoking, going hard on the young prince for his misguided choices. Miffed that his brother had seemingly been given a pass ("William had not been perfect during that period either. He was also drinking when he shouldn't have been, but because he was the heir, he got away with it, and Harry was the one who took the flak," Nicholl told the magazine), Harry gave him the silent treatment. Said Nicholl, "It took one of their aides to actually coax Harry into speaking to William again, because Harry was so angry."
The siblings eventually mended fences, of course, and when William finally decided to wed his longtime college sweetheart, "two became three," Nicholl noted. "They were the royal trio, joking that Harry was the spare wheel, but actually, they fit very comfortably as a trio. I think it was the hope and expectation that three would become four and we would have this fab foursome. It was a perfect headline for the press, but I think the narrative suited Kensington Palace and the royal family very well—to have this beautiful, successful, aspirational, foursome. But that isn't quite how things have panned out."Instead, when Harry brought home his new girlfriend, the woman who had left him so smitten he impulsively invited her to Botswana for their third date, he was doused with a proverbial bucket of cold water.

"During the early stages of the relationship, ahead of the engagement announcement, William did speak to Harry, just wanting to make sure Harry knew what he was getting himself into," relayed Nicholl. "He voiced some concerns that things were moving too quickly….I was told when Harry first brought Meghan back to the palace, he was desperate for Kate's approval. He so wanted Kate and Meghan to become firm friends and allies. I don't think it ever crossed his mind that he perhaps wouldn't get it unconditionally from his brother."

William's words, undoubtedly intended simply as a note of caution from an heir who waited some nine years before committing to forever with Kate, stung, said Nicholl, "I think Harry felt that he didn't have the backing from the one person he really wanted it from."

Eventually Dad felt the need to straighten things out. "Harry felt William wasn't rolling out the red carpet for Meghan and told him so. They had a bit of a fall out which was only resolved when Charles stepped in and asked William to make an effort," a friend told Vanity Fair. "That's when the Cambridges invited the Sussexes to spend Christmas with them."

Back then chatter that the foursome were at odds was fairly non-existent. But it's increased steadily since Harry and William's May 2018 vows, the women naturally being named as the source of the rift as is apt to happen when two strong, impassioned females with fashions as intriguing as their passion projects attempt to occupy the same space.

And once again it appears Charles has been the one to intervene, with biographer Robert Jobson speculating on the Australian morning show Sunrise in January that the Prince of Wales was surely "knocking heads together" before the quartet reconvened for Christmas at Sandringham, "and you can see that by those photographs of them all walking together in a line."

In actuality, the group hasn't done so much as look cross with one another in pictures much less go so far as to exchange unkind words in public. And the palace certainly hasn't spoken to the brothers' current relationship status, as they are apt to ignore most stories of a personal nature that make their way through the press.

But recently those that run in royal circles have done their part to eschew reports of strife. As a former spokesman, Arbiter has been among the most vocal, giving his take that talk of a feud is much ado about nothing.

"It's all based on Harry and Meghan moving out of Kensington Palace to move into Windsor," he told Us Weekly, noting that the main drive behind relocating is to gain more square footage. While William and Kate have four floors for Prince George, 5, Princess Charlotte, 3, and Prince Louis, 11 months, to explore, Harry and Meghan's Nottingham Cottage had "two bedrooms and a living room and a dining room downstairs. There's no outside space and it's just not big enough for a growing family."

As for the Sussexes creating their own court, to be operated out of Buckingham Palace, just two miles away from Kensington, "It's called evolution," he said. "The monarchy has been chosen for 1,000 years and Harry is now in his mid-30s…it just makes sense that now he's married and he's got his own interests—that some of which he shares with his brother, but most of them, he doesn't share with his brother—that he has his own office to run his job. It just makes sense. It's logistically the right thing to do."

It's a viewpoint shared with others in the know about palace happenings.

"This is very normal," historian Marlene Koenig, author of the Royal Musings blog, told Town & Country. "This is what happens when royals get married. Harry is a full-time working royal and he has a full-time working royal wife. It makes perfect sense."

While William's role in the monarchy has been set since the day he was born—not only will he, in all likelihood, sit atop the British throne, he and Kate need to prep tiny Lion King-loving George for the reality that one day he will be king as well—as the so-called "spare heir", Harry is afforded more freedom.

Currently sixth in line for the monarchy, he's unlikely to ever find a crown on his head, a chance that will diminish even further when his niece and nephews grow their families.Thus, it was always an inevitability that the two would formally separate their work. "It is not that far down the road that William will be the heir apparent to the throne and his household will be very different from his brother's household," Koenig told Town & Country. "So just as Charles has begun to take on more duties and responsibilities from his mother, William is moving toward his future position as the Prince of Wales."

This is just how things go biographer Andrew Morton explained to Vanity Fair: "What people have to understand is every royal prince or duke has a Household. Prince Andrew has his own Household. When Edward VIII was king, his brother Bertie had a Household. His other brothers had Households. It's probably overdue, actually, and it seems to be a sensible thing to do, when you've got your own charity interests and focuses, to have people around you moving that agenda forward."

It's only because the brothers have appeared as a team for so long that this natural progress feels so shocking. "Two years ago the idea of Harry leaving Kensington Palace was unthinkable but a lot has changed," a source told the mag. "He wants to be his own person not in William's shadow."

You can still expect to see them side-by-side, of course. A slew of required royal events (think: Trooping the Colour and Commonwealth Day ceremonies) along with family affairs such as Baby Sussex's christening make it certain there will be more images of the fab four together in the future, but there will be far more of them working separately. "They are in their 30s and can't be treated as young unmarried men any more," a family friend told People. "Now, they are spreading their wings. William more than Harry as he has his three children—but Harry is now starting his own—and it is time to move on."
Please update your ads.txt file