The Royal Family – a selection of people who have kept us on the edge of our seats for many years, but now, it looks as though they are more a part of our lives than ever before. The many new additions to the family, both marriages and the welcoming of babies, has seen the Royals become one of the most talked about group of people in the world. However, there is one member that has grabbed more attention than most: Meghan Markle. For the first time, an American actress has entered the prestigious family, but how has she done it? While many of us have tried – and failed – to bag a prince of our own, it seems as though we can at least learn how to eat like a princess thanks to the secrets behind Meghan Markle's diet. Maybe this could be our first step on the journey to Buckingham Palace after all?
Keeping hydrated
If there is one thing we have learned about enjoying a healthy diet over the years, it's the importance of drinking plenty of water. It seems as though this wonder liquid is the answer to most things in life, and even Meghan Markle has jumped on the health train.
That's right; the Duchess admits that she enjoyed at least two liters of the stuff every day, and tries to incorporate as much water into her diet as possible. However, it's not all plain water for this Royal. No, she has a trick or two to making it more palatable.
A boost in digestion
It looks as though Meghan has learned a trick or two to ensure she stayed as healthy as she could in front of the camera for all those years. The former actress has admitted how she would usually try and stick to a healthier diet while she was filming, which included giving her digestive system a helping hand.
So what is her trick? It turns out that Meghan enjoys none other than a glass of hot water with lemon as soon as she wakes up. While there have been many conflicting theories about the health benefits of lemon and water, it seems that Meghan is sticking to her tried and tested method.
Woman of steel… cut oats
They say that breakfast is the most important meal of the day, and that seems to be no exception for Meghan Markle. This Royal knows the importance of making sure she starts the day with enough gas in the tank, and apparently, she regularly returns to steel-cut oats.
Not only is this meal simple for anyone to cook up at home, but these oats also come with a host of health benefits. They are packed full of nutrients and antioxidants, have a powerful soluble fiber, can help to keep our blood sugar in check, and can even help to lower cholesterol levels. Is there nothing this wonder food can't do? No wonder Meghan is a fan.
Bowls of wonder
When Meghan isn't grabbing a bowl of oats, it seems as though there is another favorite waiting in the wings: açaí bowls. Yes, all those years living in Los Angeles have done wonders for the star who spent many days enjoying the Insta-worthy food on offer in the city.
Açaí bowls are made from the açaí berry that is often blended to create a smoothie in a bowl. As well as enjoying all the nutrients from the berries, we can also top this delicious meal with just about anything we please. It's reported Meghan often opts for chia seeds and sliced fruit to give herself an extra health boost at the start of the day.
Fast food alternatives
Have you ever found yourself a few hours into a diet only to realize you crave nothing more than a huge meal from your favorite fast food restaurant? You're not alone. However, Meghan apparently has an alternative to stop herself from choosing the unhealthy options. It's said the Duchess often enjoys grilled fish tacos as a way to keep the cravings at bay.
The best bit? Her favorite recipe is super quick and easy to prepare meaning she can enjoy them even when she's on the go. As if that wasn't enough, Meghan reportedly enjoys hers topped with sliced peppers and grilled onions to add a bit of crunch to her plate.
Going green
While green juices can see many of us running for the hills, Meghan knows the importance of getting her health kick throughout the day. In fact, it seems as though the Duchess gets such a boost in her energy that she no longer needs an afternoon coffee.
Meghan has explained how she uses "food-as-medicine" as she tries to keep herself free of illnesses from the inside. These green juices are just one of the many ways Meghan stocks up on all the antioxidants she needs.
Drink over dessert
Believe it or not, but it turns out that Meghan would rather enjoy a tipple than tuck into a slice of cake. That's right; it seems as though she really is too good to be true after all.
Although Meghan might have to hold back on the drinking for a while as she is carrying the royal baby, she has stated how many summers have been spent enjoying a glass or two over the years. Perhaps her pregnancy means she will have to be ordering from the dessert menu after all?
Beaver-liscious
Some of us would shudder at the thought of tucking into a BeaverTail, but not Meghan. Amazingly, the Duchess admits that she loved the meal! However, it might not be what you think. BeaverTails is a Canadian chain of pastry shops, but the name alone was enough to scare Meghan on the set of suits.
Thankfully, she soon fell in love with the fried pastry, especially after learning they are usually covered with sticky sauces and plenty of chocolate. Fortunately, no beavers were harmed in the making of this dessert.
Always hunting for alternatives
Meghan has confessed many times how she always tried to find ways to incorporate vegetables into her diet. So what about when she is craving a salty snack instead? Have no fear; she's got you covered.
The Duchess admits that she will often grab carrot sticks, hummus, and crackers for her go-to snack, but there's more. Meghan has also perfected a baked kale chip recipe that means she can enjoy the taste of chips while getting the health benefits of the superfood.
A local favorite
Working in Canada for all those years while filming for the legal drama Suits meant that Meghan was welcomed to a whole new world of food. One of the many dishes she learned along the way was none other than poutine.
While not everyone has heard of the meal, Meghan appears to love every part of the plate. So what is it? Well, it's fries covered with gravy and cheese curds – and not just any cheese. Apparently, it needs to be the kind that "make a squeaking noise when you bite into them."
Keeping things light
Being part of the Royal Family means that Meghan is now often busy with plenty of official duties all around the world. This can be anything from meeting with some of the most important people in the world to appearing at charity events.
However, many have a theme: they involve eating. This can mean Meghan is often full up from her day on the road and looks for something light for dinner. Perhaps that's why she usually grabs a bowl of soup in the evenings?
She knows how to grill
Many of us think we can grill a steak, but it can take an expert to pull off a twist. Sure, you could just point the meat towards the heat of the grill and hope for the best, or you could take a leaf out of Megan's book.
The Duchess admits she has spent many years in the kitchen where she has picked up a tip or two including the addition of lemon to a steak. While she says no one can taste the addition, Meghan believes it helps to bring out the flavor.
A special sauce
It seems as though Meghan has a friend to thank for one of her signature dishes: a pasta sauce. Apparently, the Duchess learned to cook zucchini for four to five hours before it was ready for the meal.
All that time in the oven means the vegetable breaks down into a paste that can then be mixed in with the pasta. Although Meghan states it tastes creamy like there is "tons of butter and oil in it.," it looks as though it just takes a bouillon cube and some water instead.
A little nuts
There is a reason that many of us have seen more and more almond products cropping up all around the world: they seem to be the next best superfood that is destined to get us all the health benefits we need and more.
Now, it looks as though even Meghan is a fan. The Royal is apparently often seen snacking on the nuts and using the butter in many of her meals. As if all those health benefits weren't enough, it seems as though they can work wonders for our skin, too.
Going gluten-free
Have you ever wondered how Meghan managed to maintain such flawless skin? You're not alone. However, it seems as though there is a secret to her routine that doesn't come in a jar of magic moisturizer.
No, it's her gluten-free diet that helps to keep things looking fresh. It's said that Meghan will indulge when she's traveling but often notices how little energy she has and how she feels bloated from snacking on gluten. Now, she avoids the proteins as much as possible.
Very vegan indeed
It's not just gluten that Meghan has cut out of her diet; it turns out that she has cut most animal products, too. Insiders have spoken of Megan's "vegan-ish" menu, but what could that mean?
Apparently, the Duchess opts to eat vegan meals Monday to Friday and keeps her meat meals to the weekends. Studies have shown there are many health benefits to eating a vegan diet, including helping to improve our kidney function, aiding in weight loss, and protecting against certain illnesses.
She has a guilty pleasure
It looks as though even the Duchess has a guilty pleasure or two, and it turns out that Meghan often can't keep her mind away from a plate of fries. We knew there had to be a secret somewhere.
Meghan admits that when she was on her break from filming, she would often indulge on all the foods she had been avoiding for the last few months. Apparently, Meghan used to enjoy eating lunch with other people so they could share an order of fries with their meal.
Meghan's mac & cheese
Although she now lives with the most British family in history – the Royal Family – Meghan Markle is an American, born and raised. And as an American, there's nothing she likes better than the most iconic American food – macaroni and cheese!
However, Meghan is a known health nut, and so you might think she makes her own pasta and milks the cow for the cheese. Far from it! When she craves mac and cheese, she revealed she buys Annie's Homegrown organic mac and cheese, but throws some frozen peas in there.
Her ideal day's meal
If you're wondering what an ideal day looks like for the Duchess of Sussex food-wise, wonder no more. Breakfast would be a shake made with Clean Cleanse vanilla blended with frozen Ontario blueberries.
On to lunch, Meghan is partial to a Niçoise salad, a concoction of tomatoes, olives, anchovies, and hard-boiled eggs once dubbed by Gordon Ramsay as the "finest summer salad of all." On the side, she likes some goat cheese and a baguette, with a glass of rosé wine. For dinner, it's seafood and pasta all the way.
Her favorite food
If you asked Meghan what would be one food she simply couldn't live without, it would probably be sushi. While it's a food pregnant women are usually advised to avoid, Meghan might be tempted!
Her favorite sushi spot in her hometown of Los Angeles is Sushi Park, located in a strip mall – "as most good L.A. sushi spots are." It's her go-to place whenever she's in the mood for "beautiful, clean, fresh sushi." Too bad an ocean – and a pregnancy – now separate them.
Explaining her philosophy
If we had to sum up Meghan's philosophy on food, it would be that she's a flexitarian. Throughout the week, she said she tries to keep to a completely vegan menu that is chock full of plant-based food. On weekends, though, she has a little more flexibility in what she eats – hence the name.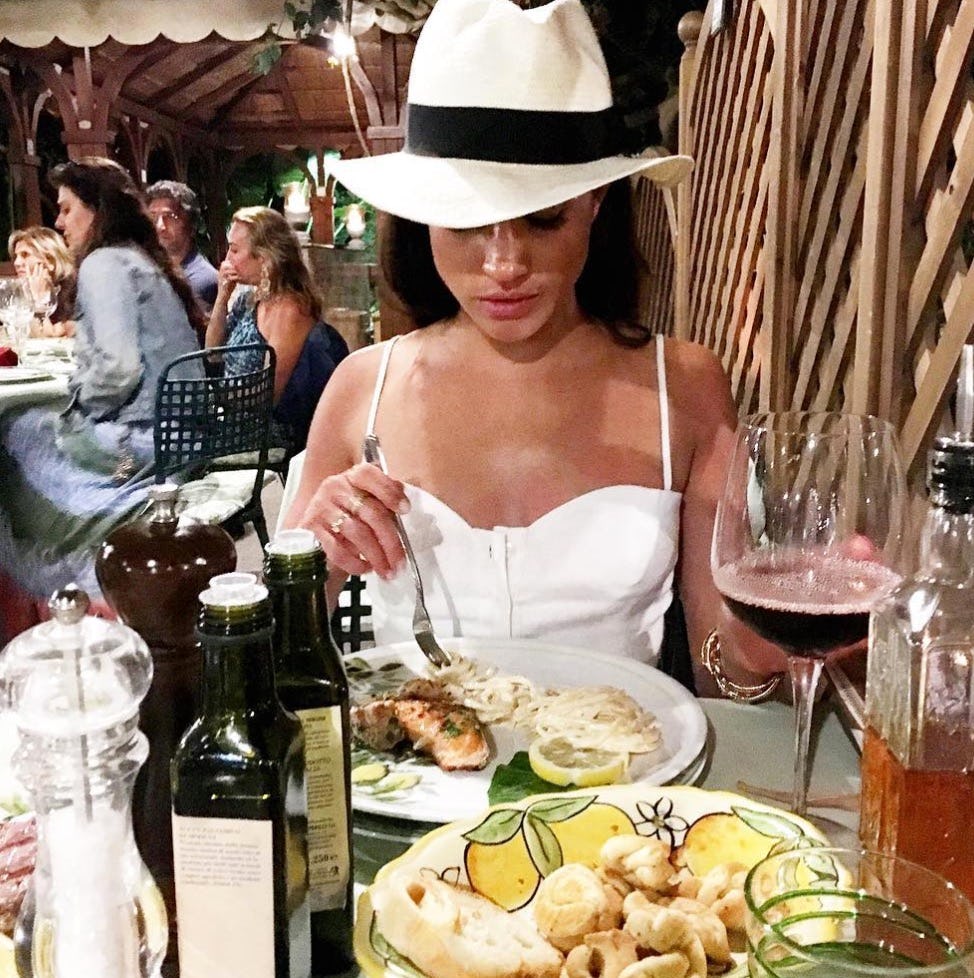 But more generally, it's all about balance and never feeling deprived of any single thing, as she believes that leads to unhealthy binge eating. "It's not a diet," she concluded, "it's lifestyle eating."
A childhood passion
While everyone knows Meghan starred on legal drama Suits before becoming a royal, her history with showbiz actually runs much, much deeper. Her dad, Thomas Markle, worked as a lighting director in Hollywood for years and even won two Daytime Emmy Awards for his work on General Hospital.
When he worked on Married… with Children, Meghan would often accompany him. Since the show was a little too adult for her, though, he'd send her to help out at the craft services tables, where her passion for food was first ignited.
The Tig
When Meghan joined the Royal Family, she had to close down all of her independent social media accounts, but also her lifestyle blog The Tig, where she shared her favorite recipes and stories from her life as an actress.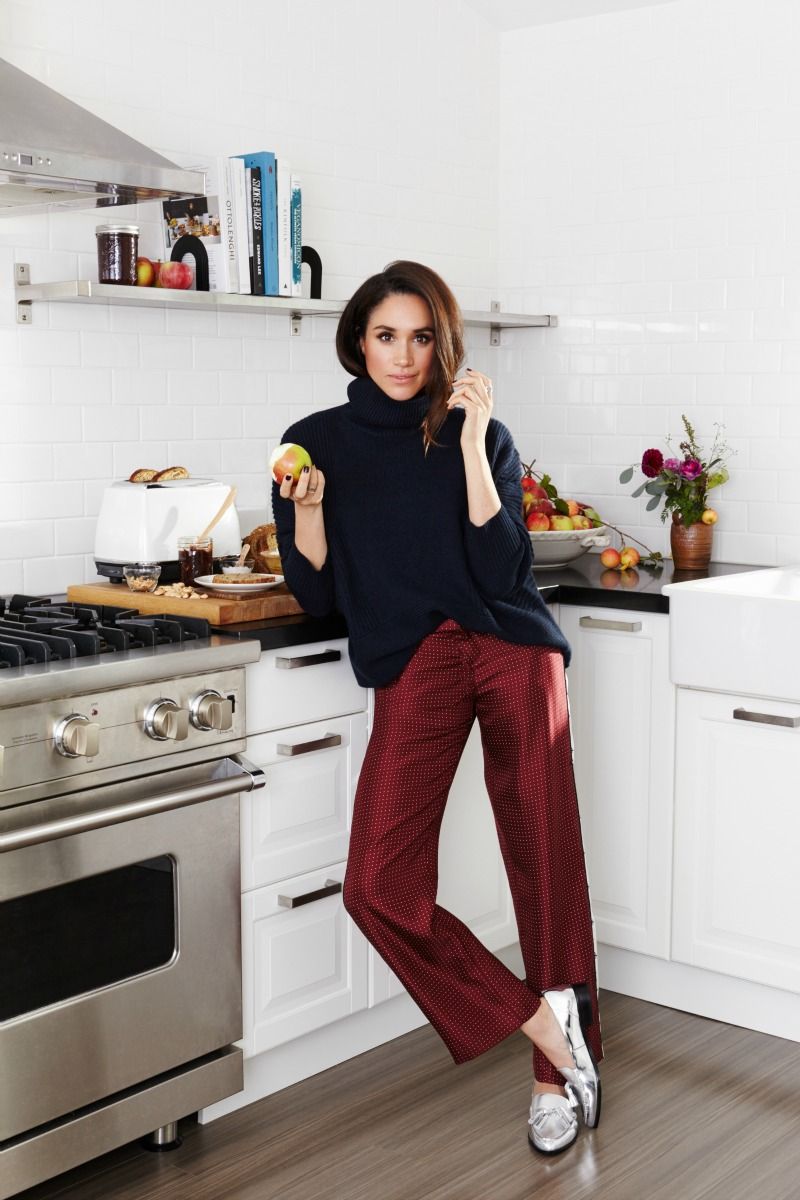 What you might not realize, however, was that the blog's odd name actually came from Meghan's favorite red wine – Tignanello. We could go on and on about the duchess's love of the drink, but we'll just let her sum it up in five words: "God, do I love wine."
Sweeping Harry up in the madness
As Meghan's relationship with Prince Harry blossomed, it seemed like the American duchess was having quite the effect on the lifelong British aristocrat.
On top of the fact she seems to have convinced the prince to stop going hunting – she's an animal advocate and refuses to wear or promote fur – his diet has also seemed to be affected. According to multiple sources, Meghan has been trying to convert Harry to her flexitarian, if not vegan lifestyle. She started him off easy, reportedly encouraging him to eat less meat and more fruits and vegetables.
A little supplemental help
Before their fairytale wedding, though, Prince Harry was allegedly in need of more than a little gentle persuasion to slim down. If reports in the United Kingdom are any indication, Harry enlisted the help of diet pill guru Gabriela Peacock, who's head of nutrition at London's swanky private Grace Belgravia clinic.
Peacock offers a variety of diet powders, which cost as much as $125 for a month's supply, although we're sure money wasn't an object in this case. It worked, and Harry ended up losing about seven pounds.
Not chickening out
Food seems to have played a major role in Prince Harry and Meghan's relationship, right from the very beginning. In fact, food stood front and center during one of the most romantic moments in every couple's life – the proposal.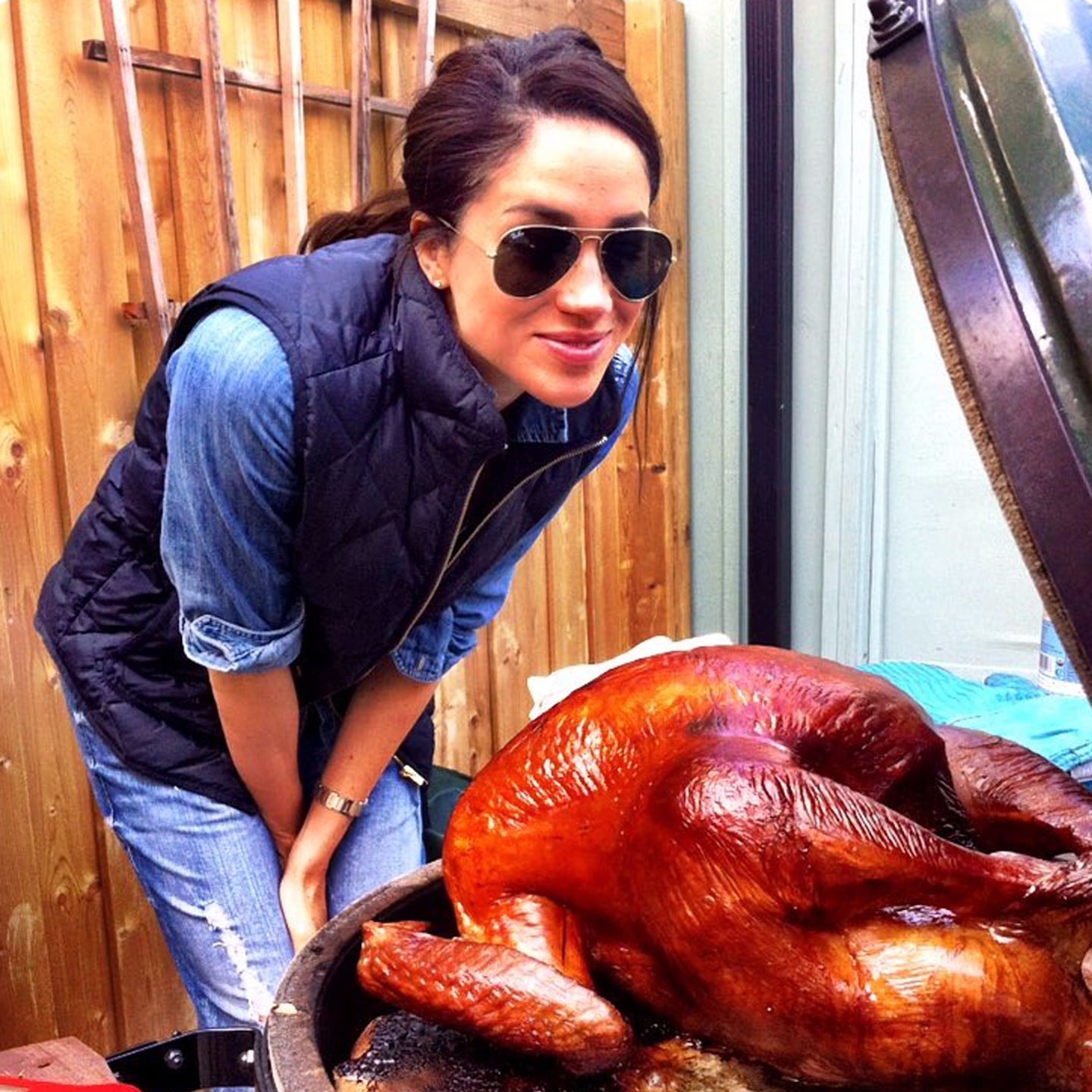 In a joint television interview, the couple shared the details of it with the world. If you imagined how a prince might propose to the love of his life, you probably wouldn't have guessed at home, over a roast chicken dinner, but that's exactly what happened. Spoiler: she said yes.
The Queen's ban on Meghan's favorite food
Meghan Markle loves pasta. It's one of her favorite dishes, in fact. Sadly, she won't be enjoying it at Buckingham Palace when she pops in to visit her grandmother-in-law.
As sources within the royal kitchens have revealed, the Queen is far from a fan of pasta, potatoes, and similar foods because she finds them "too starchy." Also banned? Garlic and onion, for breath-related reasons, rare meat, and – oddly – sandwich crusts. Yes, despite the fact that she's 92 years old, Queen Elizabeth still likes her sandwich crusts to be cut off.
Fresh ingredients
Growing up and living in Los Angeles, Meghan Markle got accustomed to eating fresh, whole, local foods, something that is definitely trending in the coastal American city.
Her love of California style eating is clear in her preference for fruits and vegetables, acai bowls, green juice, sushi, fish tacos, and more. Eating fresh local foods is also better for the environment, so when she makes these healthy choices, Meghan is caring for more than just her own health.
The most important meal of the day
According to Meghan Markle (and many experts), breakfast is the most important meal of the day. The Duchess of Sussex never skips breakfast, something that many of us can learn from.
This is because research shows that eating a healthy breakfast gives you more energy throughout the day, and can even help control your cravings as the day goes by. However, Meghan's favorite meal is actually lunch. She is usually hungriest around lunchtime, so she tends to eat a larger midday meal and a smaller dinner.
Grocery shopping
Even though Meghan is now a member of the Royal Family and has enough servants to do every chore for her, she still likes to go grocery shopping.
Her grocery store of choice is Whole Foods, and conveniently, there is a branch just a few minutes from Kensington Palace. How does the Duchess wander through the aisles without being seen? She uses a disguise! Inside sources have reported that Meghan dons a baseball cap so she can go to Whole Foods without being recognized.
Banana bread
Before Meghan married Prince Harry, she didn't have her own chefs and kitchen staff, so she had to cook for herself. It's no surprise that she continues to cook, even though she no longer has to.
In fact, the foodie Duchess really likes cooking and baking, and has plenty of her own favorite recipes. One of her favorite things to bake is her famous banana bread. She reportedly made this chocolate chip ginger banana bread as a surprise for her hosts in Australia, which was said to be delicious.
Please update your ads.txt file