Cameras were following the Duke and Duchess of Sussex, and their baby son Archie, the whole time they were on the royal tour.
We saw a whole lot of Meghan Markle and Prince Harry during their 10-day royal tour of Africa, as the couple (and on one occasion, their baby son Archie Harrison Mountbatten-Windsor) went about their official engagements. But it turns out there was one thing we didn't see while they were overseas: the camera crew filming a documentary throughout the whole trip.
ITV News presenter Tom Bradby, who conducted Prince William and Kate Middleton's first interview after they got engaged, revealed the behind-the-scenes action on Twitter yesterday. The News At Ten anchor wrote that he had "just finished filming a documentary on Harry and Meghan in Africa" on social media, adding: "I think it will explain a lot when it airs."
Bradby is possibly referring to the media storm that took place during the tour after it was announced that Harry and Meghan were suing the Mail on Sunday for publishing a private letter written by Meghan to her dad, Thomas Markle.
While nothing has been confirmed about the documentary's contents, it is most likely to centre around the important causes the Duke and Duchess of Sussex travelled to southern Africa to raise awareness of.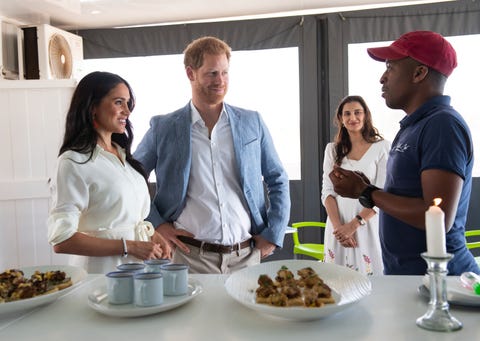 While in South Africa, the couple addressed the issues of gender-based violence, HIV, poverty, race and education. During his solo trip to Botswana, Angola and Malawi, Prince Harry also shone a light on conservation issues, as well as the ongoing dangers of landmines hailing from Angola's 27-year-long civil war.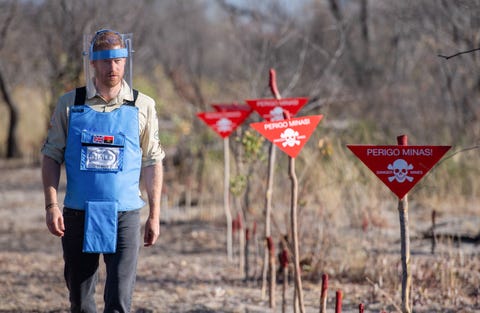 POOL/SAMIR HUSSEIN
GETTY IMAGES
It's not known when the documentary will air, but it will likely attract a big audience when it does – if for no other reason than the fact it will no doubt contain unseen footage of baby Archie. The four-month-old royal baby became the youngest member of the monarchy to take part in an overseas tour when he travelled to Africa with his parents last month.
While the youngster was mainly kept away from the public, he did make one appearance on day three of the tour, when parents Meghan Markle and Prince Harry took him to meet Archbishop Desmond Tutu.