This is what Kate Middleton and Prince William eat for breakfast
If you thought breakfast at the Cambridges' was a stuffy affair orchestrated by butlers and kitchen staff, think again.
The thoroughly modern Duchess is much more likely to be found standing in front of her blender like the rest of us, whipping up a nutritious smoothie for brekkie… and there's one ingredient she never forgets to add.
According to Marie Claire, Kate Middleton is a big fan of spirulina, blue-green algae that's popular as a source of protein, antioxidants, B12 and a variety of other vitamins.
Apparently, the mum-of-three mixes her spirulina with other super-healthy greens including kale, spinach, romaine lettuce, coriander and antioxidant blueberry juice.
While Prince William is known to enjoy a traditional fry-up first thing (he regularly indulged at the staff canteen when he worked as an East Anglian Air Ambulance pilot) the Duchess is more health conscious and is known to do her best to ensure Prince William follows a nutritious diet.
Kate previously followed the Dukan plan, which mainly consists of lean protein, oat bran and lots of water before her wedding.
Just don't go expecting a bowl of Coco Pops if you pop 'round.
WHAT ABOUT MEGHAN MARKLE and PRINCE HARRY?
Meghan Markle and Prince Harry announced their engagement in November 2017, and while the internet has all but blown up since the declaration of another royal wedding, fans of the couple want to know everything about England's future royalty. The Suits actress has always been appreciated for her beauty, talent, and humanitarianism, but now, Markle and Prince Harry fans want the scoop on things like what Meghan Markle's breakfast looks like from day to day, and how she takes care of herself between princess lessons, wrapping up her final season of Suits, and spending time with her handsome prince.
Ah, celebrities — they're just like us. It sounds like an oxymoron, and I had my reservations myself, until Markle's diet piqued my interest, too. I'm thrilled to report that Markle is, surprisingly, as basic as it gets when it comes to her breakfast, and every go-to recipe she swears by is as easy to put together as it is delicious. Slay, queen (or, princess, I guess), slay.
Markle told Shape,
I definitely just try to avoid the things that I know are going to make me feel lethargic or sluggish.
I don't ever want to feel deprived… It's not a diet; it's lifestyle eating.
From my research, I've gathered that the future princess keeps her meals (for the most part) simple, healthy, flavorful, and of course, Instagram-approved. The following breakfast foods are some of Markle's favorites, and you don't have to be royalty with a team of chefs to whip them up yourself in the a.m.
1. CHIA SEED PUDDING
Personally, I could never get behind chia seed pudding. It's not that I don't like the idea of preparing my breakfast and eating it on-the-go later; I think I just never sweetened it enough to please my taste buds.
But as far as the future royal is concerned, E! Online reports that she loves the treat so much that she makes it "every single week."
If you haven't tried chia pudding yourself, consider this a royal decree to do so ASAP. The core of the recipe is to add one-third cup of chia seeds to one and a half cups of cow or non-dairy milk. If you like to keep things simple, you can store in the fridge overnight as is, but I highly advise you experiment with the hundreds of recipes out there, like the Minimalist Baker's delicious chocolate chia seed pudding. Yum.
2. A BOWL OF OATS
I eat oats, like, every other day, so if Meghan Markle loves a hearty bowl herself, that basically means I'm a princess too, right?
Not only is Markle royalty-in-training, she is (was?) also a famous actress, so her eating habits depend on whether or not her schedule consists of a shoot that day. In the name of keeping things tasty but simple, Markle told Delish she likes munching on a bowl of steel-cut oats topped with banana slices and a drizzle of agave syrup. Pretty easy, right?
3. AN OMELETTE WITH ALL THE FIXINGS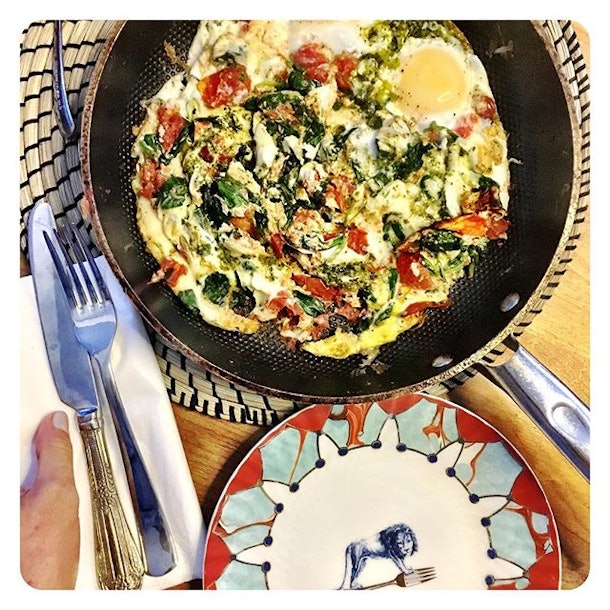 When her schedule's not as busy, Markle likes to get a little more indulgent with her breakfast options.
She told Delish she'll typically have an omelette dressed with fresh herbs, stuffed with cheese, and a slice (or two) of toast. Hearty and healthy? This princess knows exactly how to balance simplicity and deliciousness.
4. WATER WITH LEMON
In my experience, water with lemon is an acquired taste, but if you can enjoy a cold glass or warm mug first thing in the a.m., your body will definitely appreciate it.
The benefits of lemon water are plentiful: It's super detoxifying, boosts your immune system and your digestive system, and it can also enhance your skin's natural glow. If I'm in the mood, I'll typically reach for a cold one, but the future princess takes hers with hot water and a warm lemon. Follow suit and pinkies up!
5. SLICES OF AVOCADO TOAST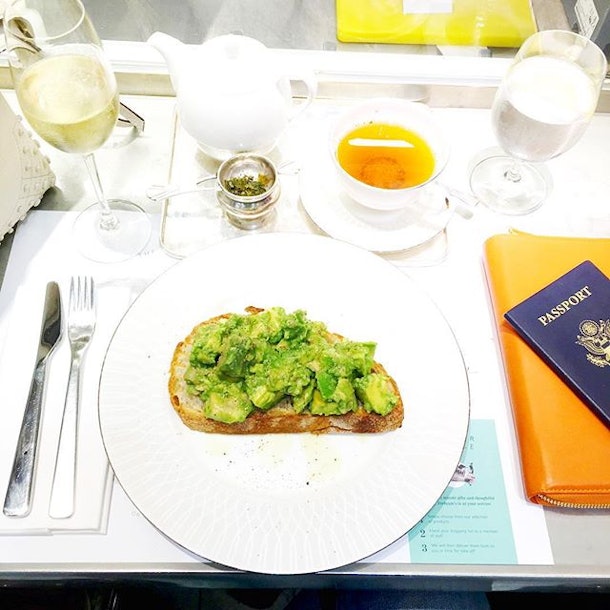 On top of everything Meghan Markle is (the quintessential Cinderella story, a successful actress, women's rights activist, humanitarian, etc.), she's also a self-proclaimed foodie which, naturally, means she's into avocado toast.
Remember, looks can be deceiving. Smashed avocado on a single piece of bread might come off as too light for breakfast, but it's actually really filling because of the avocado's heart-healthy fats. Add a squeeze of lemon or lime juice and Himalayan salt to the mash, and you've got yourself a breakfast fit for a princess.
6. PLATED FRESH FRUIT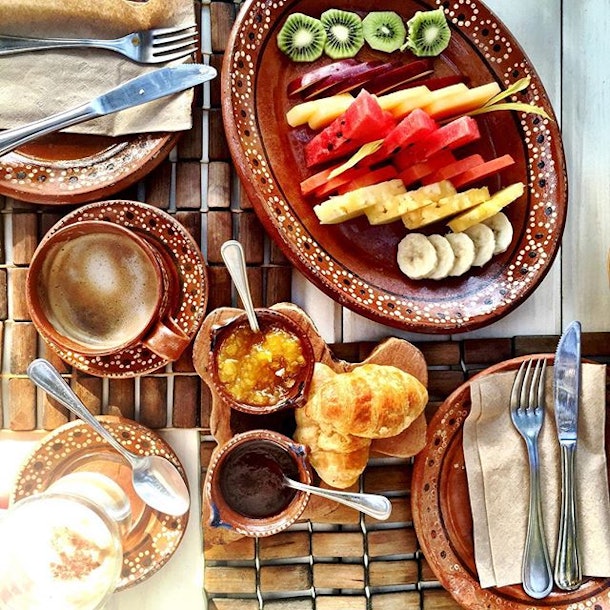 Markle is a world traveler, which means she's probably been exposed to some of the most delicious foods and critically acclaimed chefs. But sometimes, your body needs a taste of the Earth's natural candy: fruit.
Also, peep those croissants piled high with an assortment of jams and a cup of coffee to wash it all down. Girl knows how to eat, and I'm so here for it.
7. A LOADED BAGEL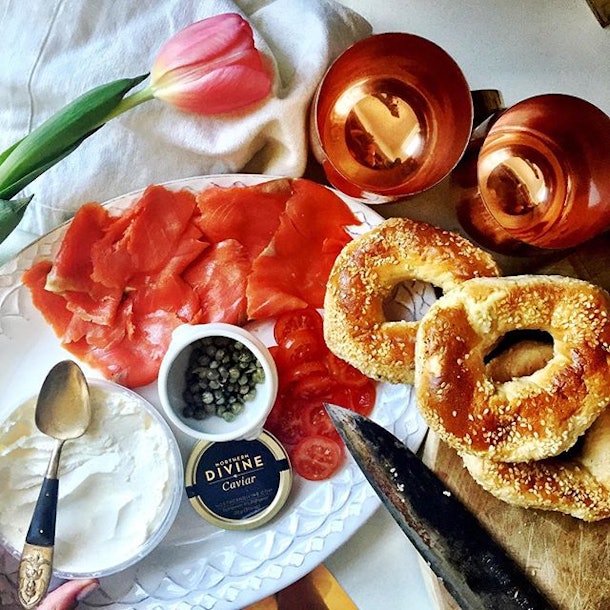 Why yes, that is a group of (salted? Maybe sesame?) bagels spilling over a plate full of sliced lox, caviar, and cream cheese. Forget the fact that she's probably indulging in this spread for a special occasion; the point is that this future royal loves carbs and isn't ashamed to show it.
8. GLUTEN-FREE PANCAKES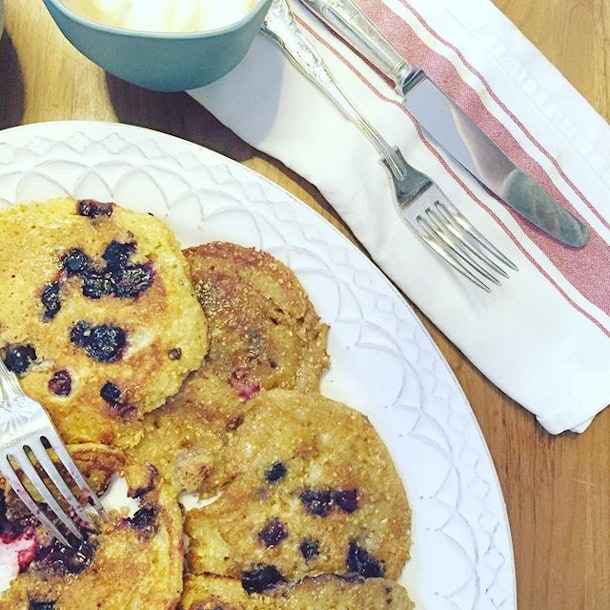 Though she's not 100 percent gluten-free at all times, Markle told Delish that she does notice her skin looks brighter and clearer on camera when she says buh-bye to gluten for days at a time.
The tasty stack featured above was made with cornmeal, but you could also make gluten-free pancakes using Bob's Red Mill mix or King Arthur flour. This isn't to say you shouldn't indulge in regular pancakes if you aren't gluten-sensitive, but subtracting grains when possible can be beneficial to your health.
9. AÇAÍ BOWLS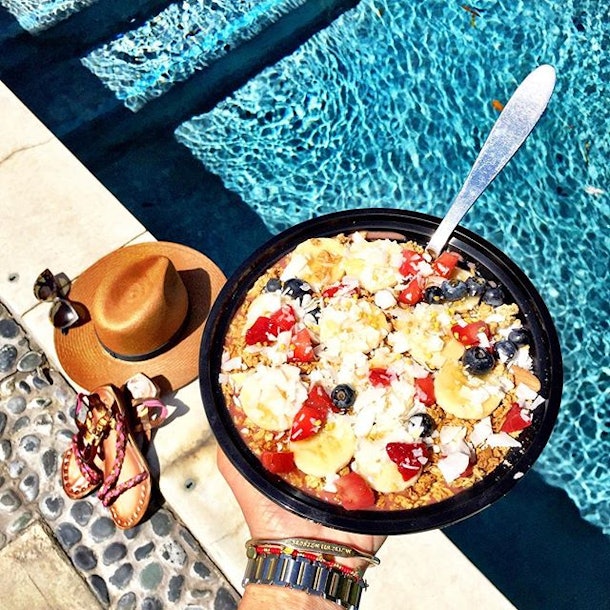 Whether you're a foodie, or you're just someone who's obsessed with trying Instagram-worthy, edible trends, chances are you've sampled a spoonful of açaí smoothie bowls yourself over the past year or so. These things were my jam throughout the summer of 2017, and if the future princess has anything to do with it, they're sure to stick around in the new year.
In an interview with The Chalkboard Mag circa 2015, Markle told the online publication she'd go back and forth between Clean Cleanse vanilla shakes and these done-up bowls loaded with "fresh berries, manuka honey, and bee pollen."
Please update your ads.txt file